Full Storyline
Marcella, the young and beautiful daughter of Count Robinsee, is attending a prestigious boarding school and leads a care-free life. At school, she shares a close friendship with Margit, the sister of Carl Sörensen, a wealthy industrialist who owns a metal factory. Marcella is in love with Hansen, a poor but talented engineer who works for Sörensen.
But not all is well – Marcella's father leads an extravagant lifestyle and now has lost the family fortune to gambling and women. Marcella becomes distressed when Hopkins, her father's notary and manager, informs her of the situation and she confesses to Margit.
Not long after, her father the Count dies and when the will is opened it turns out that Marcella is left with heavy debts. Hopkins, who is also Sörensen's consultant, comes up with a solution –Sörensen will lend Marcella the money she needs.  Sörensen is inclined to do so because he knows Marcella is a good friend of his sister.
Meanwhile, Hansen feels that Marcella is distancing herself from him. He thinks that the reason is his own lack of means and when they meet, he expresses his feelings to her.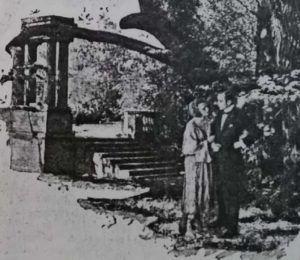 Marcella is too ashamed to admit to her new situation. She asks for his forgiveness and tells him that he will be able to understand her actions later on.
Hansen is devastated and immerses himself in his work. As a result, he comes up with a break-through invention and issues a patent on it. Sörensen is impressed and says that this invention will put his factory at the forefront of the industry. Hansen is then promoted to be the director of his department.
Marcella's financial situation deteriorates and the creditors are knocking at her door. To her rescue comes Sörensen – Margit sends her a note saying that her brother will give her the necessary funds. Marcella is humiliated that her situation has been exposed. She sends a note back, saying that she will only agree if Sörensen will take over her properties in return. But then, Sörensen comes up with the perfect solution for the awkward situation – he proposes marriage to Marcella!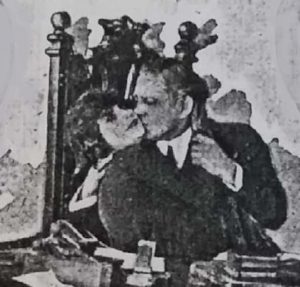 Following the ceremony, Marcella learns from her husband's secretary that she has just married an unwell man. As time goes by, his illness worsens and he travels to the mountains in the hope of getting better.
Despite Sörensen's absence, business is booming and the company's stocks are gaining in value thanks to Hansen's invention. Alone at the mansion, Marcella invites Hansen to come over one evening. She tries to explain the reason for her marriage to Sörensen and asks his understanding. Hansen, who feels that Marcella has killed all love within him, is too sad for words and leaves.
Back in the factory, Hansen resigns and without his expertise, the machines are breaking down. Word gets back to Sörensen but nobody can explain to him the reason behind Hansen's resignation.
Marcella sends another note to Hansen asking him to meet her. Hansen can hold no longer – he confesses that he desires only her but people are trying to come between them and he can bear it no longer. Marcella begs him to change his mind about resigning – she feels something ominous is coming and asks for his protection. Hansen cannot refuse her and agrees to stay.
Sörensen learns of the situation and feels that Marcella has been ungrateful. He asks to see her and when she explains the circumstances, he admits that due to her difficult situation she had to marry a sick and moody man. Nevertheless, his anger at Hansen persists and he gives orders to fire him.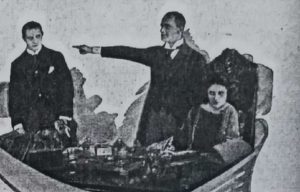 Afterward, Sörensen's condition worsens and he despairs of life. He prepares his will and one day when hiking in the mountains, he cuts his own rope and falls to his death.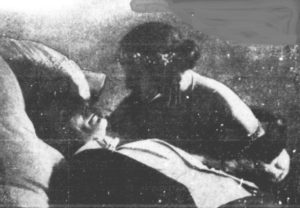 Marcella is overcome with grief and retires to a remote abbey. It turns out that before his death, Sörensen has left a letter for Hansen. In the letter, he states that his days are numbered and because he understands Hansen's pure love for Marcella, he surrenders her back to him with the hope that he will be a faithful and loving companion to her.
And so, in taking this tragic step, Sörensen has paved the road for the lovers to fulfill their love.
Reviews
(Review from the shooting location) – "The Italian film director, Guido Schamberg… has come to Germany with the diva and compatriot Marcella Albani, as there is hardly any work on the Italian film scene… Ms. Albani… (has) won the first beauty award at the Milan film festival. She is indeed most beautiful. A noble head, beautiful hair, slender figure, agile body – of real Roman stock – classy… The scenes we had an opportunity to watch did not give proof of great acting ability. Schamberg's directorship is accomplished. He knows how to stay in control of all involved in the production and despite his very poor German, he succeeds in keeping quite a pace. It is obvious that the actors love to work with him. Communication with Albani takes place in French… Judging from the photographs, the very striking snow shots were taken in the Riesengebirge". (Riesengebirge – a mountain range located in what used to be Silesia)  Film Kurier (088), 16-04-1923
"The Game of Love – when you hear this title indeed one expects a light, airy game, possibly floating in Rococo gracefulness. But the issue here is serious, dead serious. The people who we encounter here are so noble, that one feels unworthy afterwards… Guido Schamberg directed this subject matter, which is not necessarily original, in a somewhat detached manner, yet quite diligently. A little more tempo would have certainly not compromised its effects. Marcella Albani walks through the film like a living marble statue. Alfred Abel has little opportunity to display his acting genius in the role of the husband… (but) his performance is moving in the farewell scene before he takes the final step… Overall, it is an acceptable film for an audience of a solid make". Film Kurier (33), 07-02-1924
"A very well-made little film which successfully plays with one's emotions. What Marcella Albani lacks in acting talent, is compensated for, to quite an extent, by her beauty. Alfred Abel draws the attention in his role as a married man, by his inspired type of acting. Karl de Vogt renders the role of the engineer a sympathetic appearance. The film is anything but profound, although not without taste in its presentation". Filmwoche 1924 (10)
Full Cast
Marcella Albani – As Marcella Robinsee
Erich Kaiser-Titz – as Count Robinsee, Marcella's father
Josephine Dora – Robinsee's housekeeper
Alfred Abel – Director Karl Sörensen, Industrialist
Loni Pyrmont – Margit, Sörensen's sister
Carl Auen – Roberts,  Sörensen's secretary
Olga Hanson – Lily Basetti, a dancer
Carl de Vogt – Hansen, engineer
Hugo Döblin – Dr. Hopkins, notary
Leonard Haskel – a creditor
Johanna Ewald –  Headmistress of boarding school
Photo Gallery
(click on any photo to start a slide show)
Das Spiel der Liebe