Full Storyline
Renate, the young and beautiful daughter of Count von Sternsee, leaves her parental home and marries the poor, unknown poet Henry Richard against her father's will.
Although poor, nothing seems to tarnish their marital happiness. Until one day, Renate's childhood friend Cecilia, who is now married to Senator Stephensen, enters their lives. Cecilia is a socialite who has connections everywhere and so she succeeds in promoting Henry's work to a publisher. But this opportunity doesn't come without a price. The publisher indicates that he expects Henry's wife, the beautiful Renate, to give "a service" in return. Renate is forced to go to the publisher's office…
Later on, Henry's moralistic and philosophical novel "Women", is published and immediately becomes a bestseller. Henry is accepted into high society and becomes a trend-setter, which in turn makes Cecilia even more drawn to him.
During a reception which Cecilia holds in honor of Henry, Renate overhears her husband telling some of his most avid female admirers about his views on love. For him, love turns into habit in marriage. It is impossible, in his view, to marry the woman one loves. Emotionally broken, she flees to a friend of the family, the old professor Barberint who tells her that Henry allows himself to talk this way because he wants to pass as a modern writer and because his wife is faithful. In his opinion, if Henry were made jealous, he would immediately change.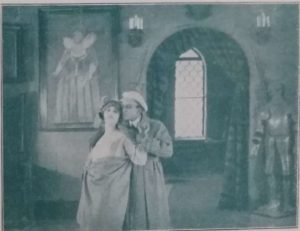 And so, Renate comes up with a plan. She surrenders to a womanizer, the young Count Scarampi, in order to arouse Henry's jealousy and win his love back. But Henry is much too busy with Cecilia to notice the flirtations of his wife with Scarampi.
One evening Scarampi visits Renate during Henry's absence. He lets himself get carried away and embraces her. At that moment the wind slams the door and Renate fears Henry had returned home and witnessed the scene. She rushes to his study and sees him crying, as she believes, over the scene that had just taken place. But Henry is sad because Cecilia has neglected him lately. Repentant, Renate throws herself at his feet. Henry, whose thoughts are with Cecilia, only smiles at her absentmindedly.
Henry then travels to the mountains. He tells Renate that he intends to write a winter sports novel but in fact, he plans to visit Cecilia who is in a hospital suffering from lung disease.
Meanwhile, Scarampi is frustrated that Renate completely ignores him which proves that the womanizer has discovered true love for the beautiful woman. He turns to Barberint for advice only to hear of Renate's scheme. Scarampi is devastated. He points his revolver at himself and pulls the trigger. Fatally wounded, he is taken to the hospital.
Renate is horrified when she hears what has happened. She visits Scarampi and is suddenly overcome with compassion and a deep affection for him. To prevent these feelings from turning into real love, she quickly leaves and travels to see her husband in the mountains.
A terrible surprise is awaiting her. She finds Henry intimately embracing the ill Cecilia. Renate is shattered. She now sees no reason to reject Scarampi any longer. Meanwhile, in the mountains, Cecilia has died and Henry returns home, only to discover that he has been infected by Cecilia's disease.
While Henry's new play achieves another roaring success in the theatre, his condition deteriorates. Barberint, who rushes into his room to bring him the good news, finds him dying. Motionless, Renate stands at the deathbed of her husband. With his last breath, Henry asks her forgiveness.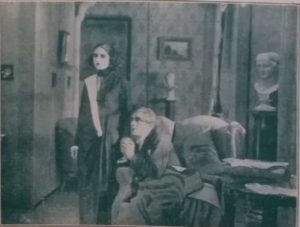 Then, like a veil of fog dissipating before her eyes, Renate realizes how they both missed on each other in the heat of passion and forgivingly embraces the dying Henry.
Censor's decision
The film was first reviewed in August 1923 – it was approved for viewing but banned for minors. Then, a complaint was filed with the Film Supreme Inspection Authority regarding 3 photos in the filmstrip.
The photos show a young woman in different postures. In two of them, her upper body is naked apart from her breasts which are covered by an ornamented metal bra; in the third photo, she is shown with naked shoulders and upper arms and half-veiled breasts. The preliminary decision was to object to these photos because, as it was stated, "they are qualified to overexcite the fantasy of adolescent people".
However, the Supreme Inspection Authority came to the conclusion that adolescent people should only be protected from overexcitement by the "Moving Picture Act" if there was a conscious intention to create an erotic impact. In this case, the opinion of the censor was that "the photos at hand refrained from any allusions to lustfulness, thereby not expected to influence the fantasy of healthy adolescent people in an adverse manner". The final decision was, therefore, that "the complaint was recorded but the three photos which were disputed by a preliminary decision, are approved for public display in the German Reich". Berlin Film Oberprüfstelle (B.74), October 5, 1923
Press Reviews
"Passion has caused entire peoples to wage war against each other, destroy each other; an idea, a thought becomes a wild passion and pushes them on the wrong track. How easily must it be for a single person then, to be blinded by passion and take a wrong route, fall prey to a passion that first lifts him up to gigantic heights and then plunges him into bottomless depths; dissolving in front of his eyes like a fog to leave nothing but bitter regret… This extraordinarily suspenseful film was shot by the Nivo-Film-Co. in the framework of its Albani-Production, under the artistic direction of Schamberg". Neue Illustrierte Filmwoche 1924 (22)
"Tuberculosis in film format… What one gets to see is rather…the hangover. With two bodies of different sexes riddled with acute tuberculosis. He is a successful author who is pursued by the ladies. She is the wife of a senator but also a floozy, who can't even leave her chauffeur alone. With her last kisses, she infects her lover, who for her sake has horribly neglected his beautiful, attractive wife (in other words Marcella Albani), despite her beautiful clothes, her true love and her genuine tears. As she sees him at the end on his deathbed (Alfred Abel's portrayal is extremely realistic, although – as someone whispered in my ear – medically incorrect), she forgives him and promises further care. In this not always understandable drama, Berlin actors appear alongside quite a number of Italian actors. It is clear that Schamberg was the director". Berliner Volkszeitung, May 27, 1924 (250)
Full Cast
Ludwig Rex – Count von Sternsee
Marcella Albani – Renate, his daughter
Alfred Abel – Henry Richard, writer
Hugo Döblin –  Prof. Otto Barberint
Erich Kaiser-Titz – Senator Stephensen
Gertrud Welcker –  Cecilia, his wife
Ernst Hoffmann –  Count Scarampi
Hermann Vallentin – Publisher
Olaf Storm – The young cavalier/suiter
Fred Selva-Göbel – The dubious cavalier/suiter
Josef Commer – The poet
Ellen Plessow – The old woman
Fritz Beckmann – The man in bed
Marian Alma – Dr. Garden
Photo Gallery
(click on any photo to start a slide show)
Im Rausche der Leidenschaft