The Making of an Artist
Max Lewin's first documented step towards a music career was in 1909, when he enrolled at the Berlin Stern Conservatory (Sternsch'sches Konservatorium der Musik). In a future review of his performance, it was mentioned that his "baritone was shaped by the best Italian schools", indicating that he had probably trained as an opera singer in Italy, much earlier than that.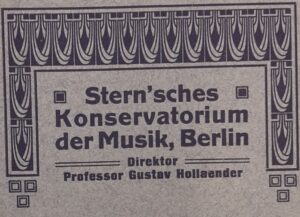 Max attended the department of singing at the Stern conservatory between 1909-1911 under professor Nicolaus Rothmühl, who was a famous Royal-chamber singer and the head of the Opera School at Stern's.
The academy was established in 1850 and was considered the oldest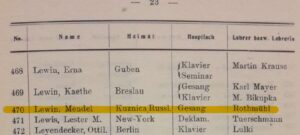 music school in Berlin. This was where many renowned musicians and opera singers from all over the world had received their training. To be admitted to such a prestigious school is an indication that Max had the talent and the skill necessary, to pass the entry exams.
Upon graduating in 1912, Max Lewin launched a full-time career as an artist. He assumed a stage name – "Nivelli", almost a perfect anagram of the name "Lewin". Under this new name, he was registered in the German Stage Artists Yearbook (Deutsches Bühnen Jahrbuch – Neuer Theater Almanach).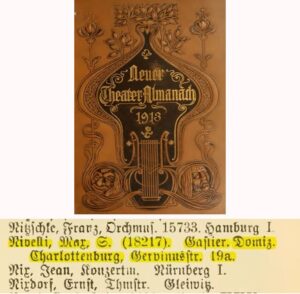 Fresh out of school, he was immediately offered a position at the opera company of Trier, a city in south-west Germany close to the border with Luxembourg. As Trier was some 700 kilometers from Berlin, Max was residing there for the duration of his employment, while the family stayed in Berlin.
During two opera seasons, 1912 and 1913, Nivelli was a regular member of the "Trier City Theatre" (Stadtheater) and appeared in ten different productions, playing various characters as a Bass and Baritone. He was noticed for his voice and acting skills by the art critics of the city's major newspapers, with increasing appreciation.
Here are some reviews of his last role as "Alberich" in Wagner's "The Ring of the Nibelung":
"… Mr. Nivelli's Alberich (was) especially of interest… with a very distinct character, but also with clearness (of voice) that is highly worth living for. Moreover, he knew how to properly emphasize his arias, which we highly commend". Trierische Volksfreund, Trier 1913-03-01
"Max Nivelli has brilliantly portrayed Alberich. In his overall presentation, he showed himself a natural at personifying its character… The combination of guile, lasciviousness, greed, and dark greatness had a thrilling effect in his rendition. Musically, he is praiseworthy… and provided a genuine vocal performance." Trierische Landeszeitung, Trier 1913-03-01
Once the second season in Trier was concluded, Max returned home to Berlin and accepted a position as a singing teacher, in Russian and German languages, at the "Berlin Ochs-Eichelberg Conservatory" (Das Ochs-Eichelberg Konservatorium).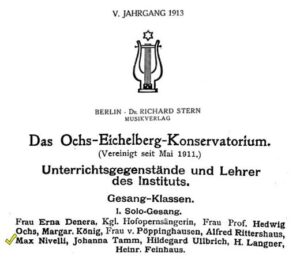 Throughout his employment as a teacher, Nivelli sustained his career as a performing opera and concert singer in Germany, France, Poland and elsewhere in Europe, receiving excellent reviews. Here are a selected few:
"Our city theatre is currently characterized by the Ring of the Nibelung. As Alberich, Max Nivelli is reminiscent of our great specialists both in vocal regards and in the unity of action and musical expression." Rheinische Musik- und Theater-Zeitung, Köln 1913-03-22
"Particularly successful in musical regard was an evening of songs in the Meister Hall that had been organized by the general German language club. Especially impressive was the vocal talent of the opera and concert singer Max Nivelli whose baritone shaped by the best Italian schools showed to advantage in a number of songs from Schubert, but above all in an encore consisting of an aria from Verdi's "Masked Ball" that received great applause." Königlich Preußischer Staatsanzeiger, Berlin 1917-05-05
"…an evening of songs deserves special attention due to its noble artistic program and the vocal craft of the performer. Max Nivelli sang songs from Schubert, Wolf, Mozart, … Especially remarkable was the artist's great scope of voice that became tender in its heights, had a resonant harmony in the mid and low ranges and an excellent sound volume. At his command, he has a voice that entirely fills large rooms and a vocal culture one rarely encounters… An example of immaculate singing… The singer received great applause." Hannoverscher Anzeiger, Hanover 1918-04-07
Nivelli was already well established in his singing career, but gradually became interested in the growing cinema industry. He was clearly not a man to ignore such an exciting opportunity.
The new industry fitted his personality like a glove – dynamic and creative. In 1915 he started to set-up his first film-production company and by 1918 his first film "Pathways of Life" (Lebensbahnen 1918) was already being screened all over Germany. Not surprisingly, this film revolved around the story of an opera singer, with Nivelli himself staring in the leading role and singing the musical score at the premier and other screenings with great success. (more on this in the "FILMOGRAPHY" section)
From here on and until his death in 1926, Nivelli dedicated his career to the film industry during the "Golden Age" of German cinema.