Full Storyline
Renate, a beautiful young woman, is abducted by a gang of criminals. She is taken to the big city and is forced to work in a gambling club and take part in the gang's criminal activities.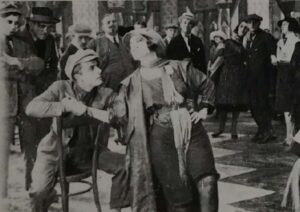 One dark and stormy night, the police raids the club and Renate escapes without damage to her body or soul. For three days and nights, she roams the streets of the big city but unfortunately, she soon falls into the hands of Nibbio, who is a cunning criminal. He lures her with smooth talk and promises of heaven on earth, only to draw her back into a life of crime. Luckily, he is soon caught by the police and Renate is free again.
Not long after, Renate meets Renzo and quickly falls in love. She learns that he is the foster son of a famous doctor but has become a victim of fate and was living on the fringes of society with other outcasts. Renate succeeds at leading him back into a decent life and they plan to get married.  Renzo finds work with a blacksmith and Renate blossoms in her happiness and the quiet life she finally has. The past seems forgotten. However, disaster strikes again as Nibbio reappears on the scene.  With the help of his accomplices, he has succeeded in escaping from prison. His revenge is centered on all who have caused his "misfortune" or who have "betrayed" him, and Renate is among them.
One evening Nibbio sneaks into a garden party which Renate and Renzo are attending and challenges Renzo to a duel. Renzo is badly wounded and is taken by Renate to the hospital. To their astonishment, the attending doctor is Professor Krauss, Renzo's foster father. In an emotional scene, just before he dies, Renzo tells his father about his troubled life away from home.
The professor then takes Renate to his home and showers her with love and care. Although his conscience troubles him, he cannot resist the great affection which he develops towards her and Renate herself also discovers that she has romantic feelings for him. Gradually love is blossoming again and Krauss is thriving in the company of the lovely Renate. He even makes a medical discovery that will free humanity of a deadly plague.
But Nibbio is still at large and has not forgotten Renate. On the day they are celebrating the professor's discovery, Nibbio confronts Renate but she demands that he leave. During the night, he returns and sneaks into Renate's bedroom.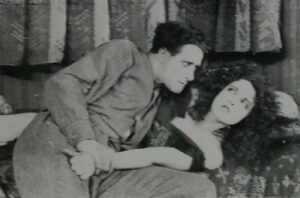 At first, he tries to seduce her with words but when he realizes that she is lost to him, he threatens to tell the doctor that she used to be his lover. When he becomes violent, Renate is left with no other choice but to shoot him with a revolver.
The shot echoes through the house. Fearing the worst, the professor hurries to Renate's room. She is horrified by what she has done and is ready to take her own life. He calms her down with soothing words and with shock, he listens to her confession. Professor Krauss then asks Renate to marry him and says to her: "Your fate has led you through the worst in life but it has also given you the strength to conquer evil. From now on you will be honest, cleansed by the purity of your will power, which is so strong that it will make you forget the past." The battle with fate has finally come to an end.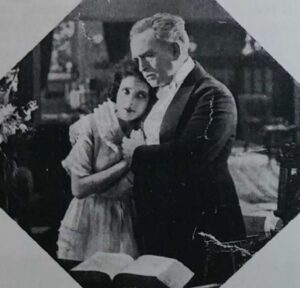 Censor's second review & final decision
The following scenes are banned and will be cut:
1 – During the arrest of the club's manager, a woman is roughly treated by the police.
2 – A woman is chased around a table and then assaulted.
3 – Two men are beating each other and wrestling on the floor.
4 – An elegantly dressed man is being robbed by hoodlums.
5 – A fight between two men with knives – the fight is permitted as long as the knives are not shown.
6 – The hand of a woman and that of a man is shown trying to get hold of a gun while they are on a couch – this scene must be shortened.
"One has to agree with the reasons given for the initial verdict: this film is full of violence and bar scenes, presenting an unwholesome show of crude feelings and depraved instincts of people in general… The Film Board nevertheless admits that there is some merit in this film. The female lead, an Italian actress, is lovely and full of charm and it is thanks to her acting abilities that this tawdry action is made reasonably credible, making it possible for the viewer to experience a measure of empathy… as for the rest, the Board was of the opinion that by cutting out the banned scenes, it has diminished the harmful content".                                      Berlin Film Board, File B.3.23, Berlin Jan. 30, 1923
From the Promo material by "Nivo Film"
"A symphony of love and suffering. A battle between will power and destiny. It does not matter whether it is all about the woman who was born in a royal castle, or about someone of lowly birth. Beauty, bestowed by fate, desired by many, often leads to disaster. It forces one into the dark places of life, even when the heart is yearning for purity, simplicity and high moral values. The suffering of our heroin is only an example of the tragedy women have to undergo daily and even hourly all over the world". Nivo Film
Press Review
"The film of Guido von Parisch starts gloomily, guiding its hero, the delicate Renate, through various ordeals towards a final catharsis… the screenplay is directed towards a large audience…  the plot is tightly written and constantly moving forward, … the director is using subtlety to support the psychology of the characters. The portrayal emphasizes strong gestures like in Italian films, Marcella Albani is at times breathtakingly beautiful as Renate and masters her performance in all its variations. Aside from her, Carl Auen is remarkable due to his cynical manners with which he conveys the brutality of Nibbio. Ludwig Hartau is again moving in the simplicity of his expressions, Ernst Hofmann as Renzo develops a surprising skill especially in the death scene… Hermann Leffler, Georg John and Maria Forescu show diligent work which is well used… The set design of M. Ostermann is very adequate and well-conceived in its lines, A. Halm and R. Merkel were responsible for the set management, the photography of A. Nanisch is impeccable even though the feigned night scenes are not quite neat".          Filmkurier, April 7th, 1923
Full Cast
Marcella Albani – Renate Decroiée
Ludwig Hartau – Professor Krauss
Ernst Hofmann – Renzo, his foster son
Georg John – Renzo's friend
Carl Auen – Nibbio, adventurer
Maria Forescu – Lissh, Nibbio's lover
Victor Costa – Count Salm
Hermann Leffler – a blacksmith
<< Filmography                                                                                                            >> Next Film
Photo Gallery
(click on any photo to start a slide show)
Frauenschicksal